Congratulations ! 7000mm Width HDPE Geomembrane Sheet Extrusion Line Successful Testing 
Geomembrane Specifications:
Geomembrane width 7000mm,
geomembrane thickness: 0.5-3mm,
geomembrane structure: A/B/A co-extrusion
geomembrane surface: smooth & textured & geotextile coating
geomembrane application: landfill, artifical lake, dame, reservior, swimming pool,
aquaculture, industrial and civil building waterproof etc.
The flat die plus roller calendars extrusion system for  geosynthetics geomembrane manufacture is widely known throughout the
industry and is generally accepted as the best way to ensure a maximum flatness and consistent thickness and optimum properties
of geomembranes. Absorbed and combined both domestic and European advanced technology and experiences, LEADER launched
a high capacity extrusion line with low shear & energy consumption. The exclusive design of the main extruder and rollers calendars
structure are helpful to smooth the performance of extra-width geomembrane and precision of thickness.
MACHINE SPECIFICATIONS:
1)     Mixing type dryer  2 sets
2)     LSJ-150 and LSJ-150 Single screw extruders   total 2 sets
3)     Hydraulic screen changer and melting gear pumps  total 2 sets+2sets
4)     T die head +feed-block  1 set
5)     Three roller calendars with thermo-controller  1 set
6)     Downstream parts,including cooling frame and edges trimming, haul off unit,  transverse cutter, winder  1 set
Processing raw material
PE granules, recycled flakes, carbon black or masterbatch, other filler material etc,
Main features of the line:
1)     Gravimetric dosing system for raw material handling is available
2)     High capacity extruders with movable frame
3)     Two or three sets of extruders are equipped, can realize the mono layer and also multi-layers co-extrusion
4)     Automatic T die and online thickness scanner is optional
5)     Exclusive roller calendars and traction structure for maximum flatness & consistent thickness of membranes
6)     Both mirror roller calendars and embossing roller calendars are available and replaceable.
7)     Worldwide famous assembly parts, such as SHINI, MOTAN, JC TIMES, NORDSON EDI, SCANTECH, NORD, MAAG, GEFRON, NSK, ABB, SIEMENS etc.
MACHINE TESTING PICTURES: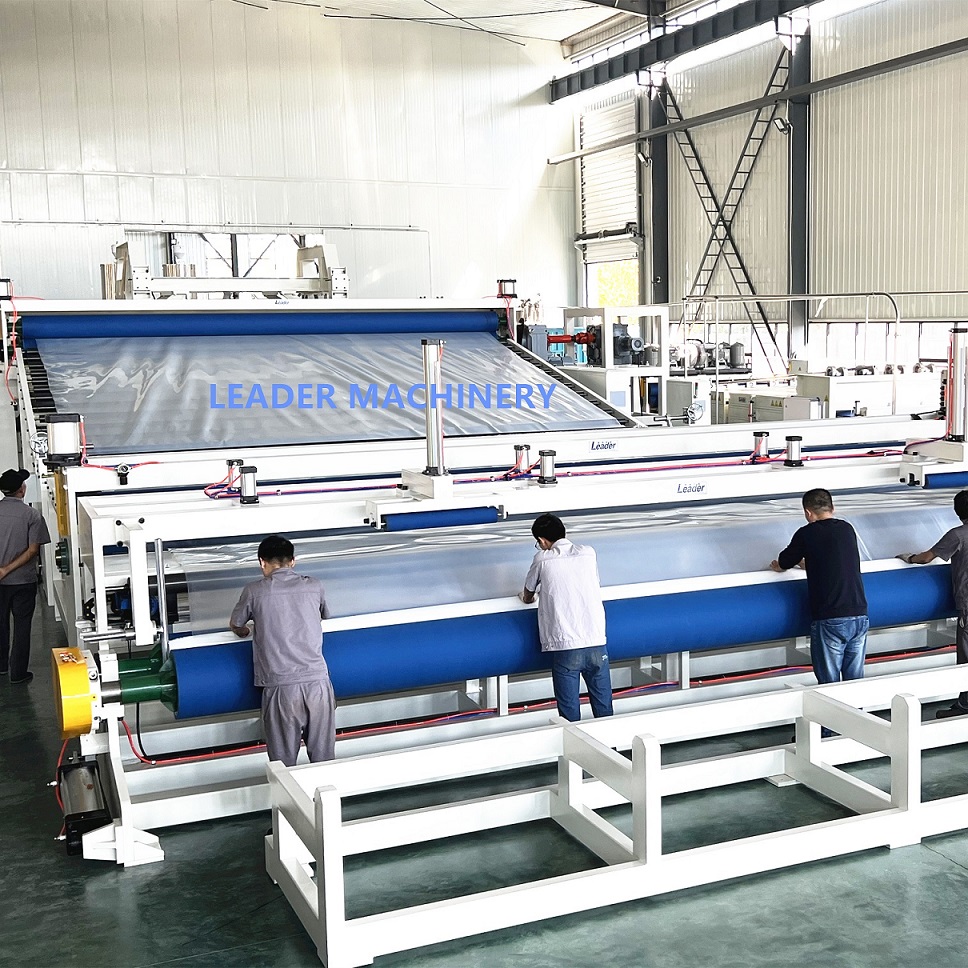 ---
Post time: Sep-30-2022